Lizz Perez
Owner & Master Stylist, Color & Vivid Color Specialist

Master Stylist
Farouk Systems Master Educator
Having an extensive art and fashion background, from drawing and painting to tattooing, Lizz Perez decided to go to cosmetology school and become a hair stylist. In her early career of cosmetology training she never would have imagined being a salon owner. Her passion for CHI color and products inspired her to become an Educator for Farouk Systems, which she has truly enjoyed the past 7 years. In the summer of 2014 fate brought her to Winchester Virginia where her passion for the hair industry led her on the path of becoming a salon owner. She fell in love with the downtown historic district of Winchester and knew one day she would have a salon there. In August of 2015 she found the perfect location and the plans for LoX became a reality. With her knowledge of the industry she travels all over the coast educating other stylists on the products and services Farouk Systems has to offer, offering in store education and working trade shows. Her vision included the formation of a team of innovative and creative stylists. Through this vision she formed TeamLoXVA.
​
Lizz received Master Educator status and the Excellence in Education Award in 2017 for Farouk Systems.
​
lizz specializes in Bold color applications - Unicorn hair 🦄
---
Shelley Charles
Salon Manager
Master Stylist, Makeup Artist, Nail Technician, Facial Wax Specialist
Shelley is a Master Hair Artist and the Salon Manager at LoXSalonVA.

​She is a master at her craft and is experienced in all levels of hair color, Cut and styling. Shelley's work speaks for itself. Every client she takes on at the salon no matter what the challenge, she shows and improves.

​If you want beautiful hair book with Shelley Charles.
---
Diana Sherrill
Master Stylist & Colorist
Master Colorist, Makeup Artist, Facial Wax Technician, Hair Extension Specialist
Diana has been a licensed Cosmetologist for over 10 years, but has been working in the industry for going on 13 years. Starting her career early on in the Stafford/Fredericksburg area, Diana started out assisting in a local salon, working under various styists, continuing to grow with various product lines and continued education. This is where Diana's passion for the hair industry took off.
She attended Paul Mitchell The School Tysons Corner, completing the course and graduating with Honors. Upon graduating, Diana moved and started her career working in a salon in Historic Downtown Fredericksburg. After a few years, she decided to take the next leap in her career and completed the Cosmetology Instructors Exam and began working in a Paul Mitchell School in Northern Virginia. After accepting a job at a school, she completed extra trainings and courses and became the Color Specialist for that specific location. She continued working both the salon and the school up until 2014. During her time working at Paul Mitchell Schools, Diana went through extensive continued education, trainings and certifications on color and cutting techniques. She also led a student run program where Communtiy Service projects were the main goal.
Moving to the area in 2014, she lives in Linden with her husband and two kids. She started working in Downtown Winchester, at LoX Salon, in January of 2016.
---
Shelby Crutchley

​Master Salon Assistant
Shelby is our Master Artist Assistant due to graduate from Cosmetology School early 2019. Shelby is our rising star and we cannot wait for her to graduate and start in her very own chair. Look for Shelby early this year.
---
Sarah Jean Dunn
Hair Artist
​
Colorist, Facial Wax Technician, Nail Technician

Moving from Ohio in August 2014, Sarah began her cosmetology career in a very hands on cosmetology school in Winchester Virginia. After obtaining her cosmetology licence she went on to assit under various stylist for 9 months. During those 9 months Sarah became familiar with current trends and color techniques while working with Redkin, Paul Mitchell and Aveda. In Febuary 2017 she moved on to taking her own clients and standing behind her own chair. Sarah has grown tremendously since joining LoX and specializes in many different coloring services and techniques, including Unicorn hair. Sarah also has added manicures, gel polish, pedicures, perms and updos to her personal menu of services.

Sarah is a shining star at LoX with a great passion for the Industry
---
Claire Smith
Hair Artist
​

Colorist, Makeup Artist, Nail & Wax Specialist

Claire was born and raised in a small town in West Virginia until 2013, when she became a resident of Winchester Virginia.

Claire has always had a natural talent for creativity and design. Combining her talents with her passion for the industry she decided to take a giant leap and applied at a local technical cosmetology school.

She works very closely with her clients, developing a personally-tailored style, which allows her to shape and sculpt the hair of their dreams. While always continuing to educate herself in the many techniques of her profession, she continually hones her skills as she studies. You will find that Claire is constantly adding to her toolbox, and improving her craft, to ensure that she always brings her clientele the highest caliber of service.

Claire is a well rounded cosmetologist, who offers hair, nail, waxing and skin services on her vast menu.


---
Meredith Smith
Brazilian Wax Specialist
Meredith is our Teams Body Waxer and Certified Brazilian Waxer. At LoX we use NuFree Antimicrobial waxing system. We will guarantee that you have a fast and professional service in a calm and relaxed atmosphere. Meredith has limited availability so be sure to rebook on your scheduled visit.
Powered by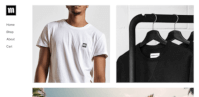 Create your own unique website with customizable templates.